WE HELP-U-MOVE, INC.
8042 Reich's Ford Road
Frederick, MD 21704
Click here to call us from your mobile phone 301-620-1169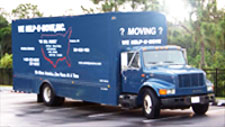 WE HELP-U-MOVE, INC. is a very unique moving concept for people who appreciate personal service. Voted "Best of Frederick" 2008, 2009, 2010, 2011, 2012, 2013, 2014, 2015, 2016 AND 2017 -- our moving consultants specialize in relocating families across the street or across the country. With over 28 years experience, we handle each move individually with QUALITY, COMPETENCE, AND CARE.
Our services begin with a FREE consultation with helpful hints on packing and preparing to relocate. We offer a wide variety of services tailored to suit each family individually.
Besides being awarded "Best of Federick" consistantly since 2008, WE HELP-U-MOVE, INC. recieved the Governors Volunteer and Service Award; the Alzheimer's Association Presidential Award; and the Frederick County Association of Realtors Community Action and REALTOR® Excellence (C.A.R.E.) Award.
WE HELP-U-MOVE, INC. has been involved in the community for decades volunteering and supporting various non-profit organizations. Here are of some of organizations and events we support:
Volunteer for the Alzheimer's Assocication Annual Walk to End Alzheimer's, the Alzheimer's Association Annual Memory Ball and Sponsors and Participates in the Annual Alzheimer's Dorothy Rough Golf Tournament. Volunteered at the Frederick Arts Council Annual Festival of the Arts. Volunteers Annually for the Patty Pollatos Fund, Inc. (PPF, Inc.) Family FUNomenon and Many Other Ongoing Fundraising Events for PPF, Inc. Throughout the Year. Participates in the Sonny's Kids Foundation Charitable Golf Tournament -- Dillons Army Annual Golf. Participates in Christmas Cash for Kids and St. Jude Children's Research Hospital. Works Closely with Habitat For Humanity of Frederick County and the Mission of Mercy. Sponsor for the Maryland Express 10 and Under Tyler Tournament Softball Team 2017-2018. Works Closely with Alliance for Veterans Housing and Outreach Assistance and collect gently used furniture for Veterans transitions from homeless to housing. Pulling for Veterans. Sponsor for Frederick High School, Middletown High School and Walkersville High School Athletics.
We also offer a real estate settlement progam with the understanding that customers pay for their move at settlement. With an agreement between the Realtor and WE HELP-U-MOVE, the expense of moving can be deferred. WE HELP-U-MOVE helps you help your client's defer payment until real estate finances have cleared, thereby making it a smooth transition for everyone. Please contact our office at 301-620-1169 for information.

[Company Profile]
[Services]
[Rates]
[Contact]
[Packing Tips]
[Box Outlet]
[Useful Links]
[Internet Moving Team]
[Testimonials]
[Weather]