WE HELP-U-MOVE, INC.
8042 Reich's Ford Road
Frederick, MD 21704
Click here to call us from your mobile phone 301-620-1169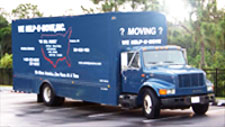 WE HELP-U-MOVE, INC. is a very unique moving concept for people who appreciate personal service. Voted "Best of Frederick" 2008, 2009, 2010, 2011, 2012, 2013, 2014, 2015, 2016 AND 2017 -- our moving consultants specialize in relocating families across the street or across the country. With over 28 years experience, we handle each move individually with QUALITY, COMPETENCE, AND CARE.
Our services begin with a FREE consultation with helpful hints on packing and preparing to relocate. We offer a wide variety of services tailored to suit each family individually.

[Company Profile]
[Services]
[Rates]
[Contact]
[Packing Tips]
[Box Outlet]
[Useful Links]
[Internet Moving Team]
[Testimonials]
[Weather]